Even though the day of Valentine's Day was pretty chill around here, that doesn't mean we don't know how to get our love party on (..yikes..this is NOT x-rated).
Because we had an awesome gift card to Ruth's Chris Steak House, we decided to hit up to Park City on Saturday and make a night of it.
By the way, has anyone ever tried to understand how that name grammatically works? Ruth's Chris Steak House? Was it Chris' Steak House then Ruth bought it and wanted to keep the name? Or was there a guy named Chris that everyone kept getting confused with another Chris until someone finally labeled him by his uber controlling wife Ruth? "Chris who?" "You know...Ruth's Chris" "Ohhh...poor SOB".
/Shrug/. Inconsequential.
The appetizer, sides, and dessert were all incredibly delicious. And OH EM GEE how have I only ordered creme brulee twice in my life?! I really need to branch out of the chocolate side of the dessert menu because I've really been missing out. But the steak- "just okay". I've had better, cheaper steak actually.
I think Park City is GORGEOUS. I love walking up and down Main Street (bad idea in heels though) at night and seeing all the lights and little shops. James also put me on "celebrity watch out" duty. No celebs were in town though. Bummer.
There are also a lot of shops with really eclectic stuff. Like a man thong made of bear fur and a tail. Not pictured. Gross.
And wolf carcasses made into hats. More gross.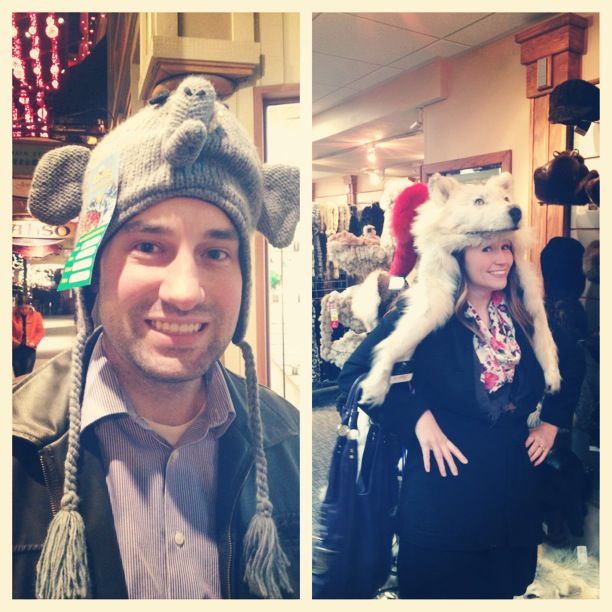 Happy Valentine's Day, lovers.